Luce Bayou Interbasin Transfer Project, Coastal Water Authority (AECOM)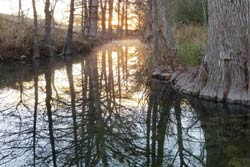 The Luce Bayou Interbasin Transfer project is a 23-mile conveyance project designed to transfer surface water from the Trinity River in Liberty County, Texas, to Lake Houston in Harris County, Texas. The purpose of this project is to increase the available water capacity that can be used to supply Harris County with clean, potable water as demand for this resource increases over time.
Crouch participated as an active member of the environmental team led by AECOM, conducting numerous environmental surveys on approximately 1,200 acres of land. In a matter of hours, Crouch Environmental Services increased its staff by eight people and mobilized field biologists and technicians to meet the urgent needs of the project.These needs included wetland delineation, threatened and endangered species assessment, biological assessment, habitat modeling, and a zebra mussel management and control plan. Crouch developed a compensatory mitigation plan, a wetland evaluation report, threatened and endangered species assessment report, and other environmental documents for the project.
Crouch Environmental Services was required to analyze the project site utilizing several different ecological modeling procedures, including Wetland Evaluation Technique 2.0 (WET 2.0), the Modified Charleston Method, and Interim Hydrogeomorphic Model (iHGM). Crouch Environmental Services processed each model independently on approximately 1,200 acres of the project site and then compared the results of each model to determine appropriate mitigation for potential impacts to project site. Crouch Environmental Services, in consultation with the client and several resource agencies, determined the appropriate model to utilize in wetland restoration and mitigation for activities. Through a broad and effective documentation approach, project information was compiled including intensive field surveys, agency input, and stakeholder input and design. Crouch Environmental Services is actively involved in the development of final versions of the referenced reports and compilation and creation of the final Environmental Impact Statement.